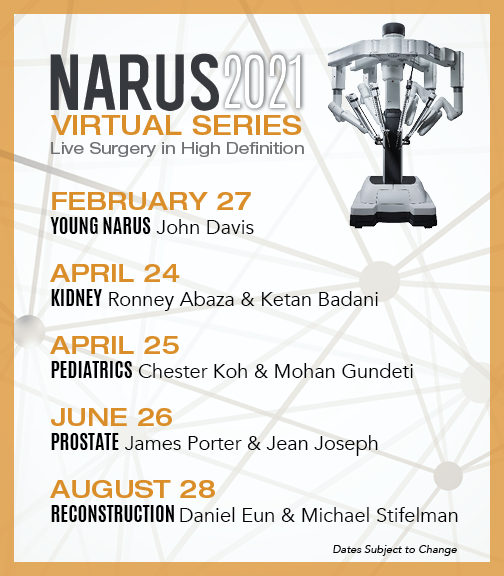 Topic Area: Prostate
To critique high impact publications in robotic surgery for prostate cancer
To demonstrate refined techniques for preserving urinary control after robot-assisted radical prostatectomy, and link them to patient reported outcomes
To demonstrate nerve preserving surgical plane selection and recognition
Topic Area: Renal
To demonstrate the surgical steps of robotic surgery procedures for kidney cancer
Analyze the robotic techniques unique to the surgical management of kidney cancer
Describe tips and tricks to manage difficult intra-operative situations and avoid complications
Discuss the key complications and outline the intra-operative and post-operative management related to robotic surgery procedures
Topic Area: Reconstruction
To demonstrate the surgical steps of robotic surgery procedures for reconstructive surgery
Analyze the robotic techniques unique to the surgical management of reconstructive patients
Describe tips and tricks to manage difficult intra-operative situations and avoid complications
Discuss the key complications and outline the intra-operative and post-operative management related to robotic surgery procedures
Topic Area I: Ureteral Reimplantation
To discuss the role of pediatric robotic reimplantation for the treatment of VUR
o analyze the key steps of pediatric robotic reimplantation as well as tips and tricks to maximize surgical success rates and minimize complications
Topic Area II: Pyeloplasty / Heminephrectomy / Uretero-ureterostomy / Pediatric Oncology
To discuss the role of robotic surgery for pediatric kidney procedures such as pyeloplasty, nephrectomy / hemi-nephrectomy, and uretero-ureterostomy.
To describe the key steps as well as tips and tricks of pediatric robotic kidney procedures.
Topic Area III: Complex Reconstruction
To describe recent refinements and advances in robotic surgical technology that benefit pediatric complex reconstruction procedures
To discuss the use and focused patient selection process for pediatric robotic reconstruction procedures
LIVE SURGERY Retzius Sparing RARP
EXPERT DISCUSSION Transitional Experiences in Robotic Surgery: The First Post-Graduate Years
Hosted by John Davis, MD, FACS
Tips for getting your early RARP cases in <4 hours
Case and technical selection early RAPN
Building a reconstruction program
Innovation Lecture: How Will Robotic Platforms Evolve for the Next Generation of Surgeons?
Panel Discussion

LIVE SURGERY Multiport Partial or Complex Radical
EXPERT DISCUSSION Advancing Your Technique and Complexity in Robotic Kidney Surgery
Hosted by Ronney Abaza, MD, FACS and Ketan Badani, MD
The Retroperitoneal Approach Made Easy
High Complexity Tumors: Tips & Tricks for a Successful Partial Nephrectomy
The Value of Robotic Radical Nephrectomy
Panel Discussion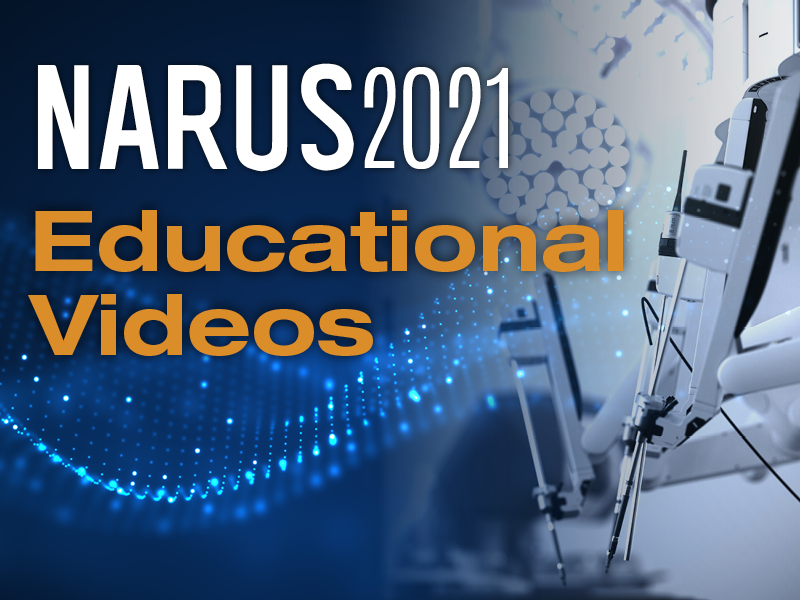 Video Library
View Bladder, Kidney, Prostate, and Pediatrics content in the NARUS Video Library.